Find Houses for Sale in Langebaan Country Estate Faster
See New Houses for Sale in Langebaan Country Estate BEFORE Other Buyers + Tour Homes ASAP With The #1 Rated Estate Agent in Langebaan. 
Find Houses for Sale in Langebaan Country Estate Faster
The Ultimate Guide to Finding houses for sale in Langebaan Country Estate
"Eco-Friendly Golf Estate. A true community living!"
Searching for Houses for sale in Langebaan Country Estate?  Then you have come to the right place!
Langebaan Country Estate (Golf Estate) is situated in the small seaside town of Langebaan and just over an hours drive from Cape Town; a region that is full of wildlife, fynbos and and vibrant wildflowers.
Langebaan Country Estate offers an alternative way of living and it has a greater sense of community than people who just share a street for example.
Residents can enjoy communal amenities such as a club house, tennis courts, swimming pool, mountain biking trails and children's play areas.
The recreational activities provided at Langebaan Country Estate adds considerably to the lifestyle on offer as well as the demand for properties for sale in the estate. 

The estate has been designed to focus on space, with lots of green belts and just a single row of houses along each access road.
This 450ha Langebaan golf estate includes an impressive 18-hole Gary Player designed golf course set against the amazing background of turquoise blue Langebaan lagoon.
Located close to the famous West Coast National Park, the estate offers a more relaxed outdoor lifestyle to those who want to get away from the hustle and bustle of city life.
In terms of security, the estate is secured by a fence and access to the estate is being controlled by cameras and security guards.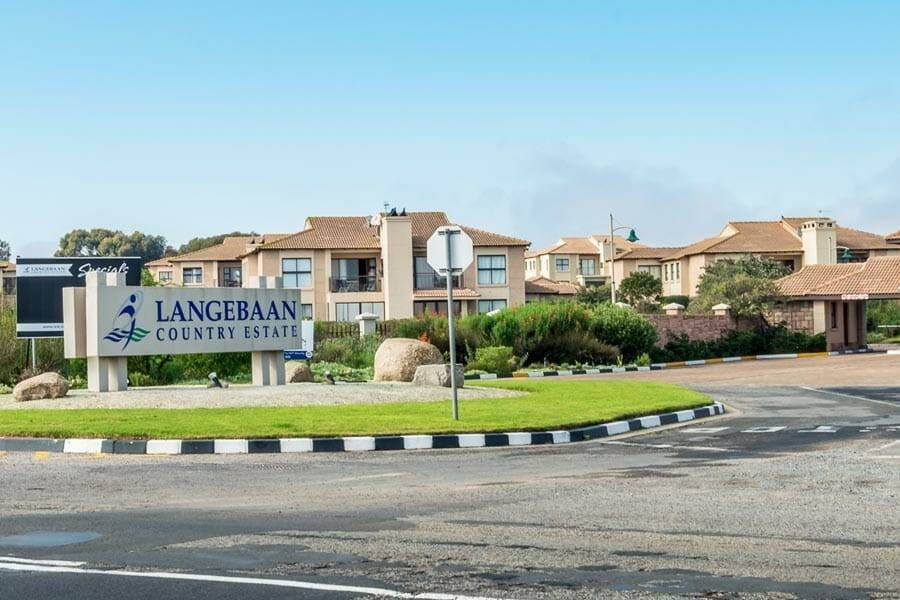 Environmental management is a high priority at Langebaan Country Estate, maintaining a balance between sport, leisure, conference facilities and the natural surroundings.
The beauty of the natural fynbos, indigenous flowers and the abundance of bird and wildlife makes this area unique. Residents experience an unpolluted, exceptional quality of life in a secure estate, surrounded by the natural beauty of the West Coast.
In fact, the estate offers buyers not only a secure quality of life but also a sound property investment and capital growth.
Properties for sale in Langebaan Golf Estate includes plots and new houses. If you're looking for bargain plots for sale in Langebaan, you'll find it at Langebaan Country Estate.

As a result of distressed sales, some plots (500 m2 +) are selling for under R400,000.
Schools Near Langebaan Country Estate
Whether you are searching for houses for sale in Langebaan Country Estate or want to buy property in the Middedorp (central town) of Langebaan, you have a choice between:
Seeskulpie Pre Primary School
Langebaan Primary School
Topolino Private Primary School
Long Acres Private Primary School
Curro Langebaan (Grade 1 to 12)
Retirement Villages in Langebaan
Langebaan Country Estate has a full-service retirement village planned. Residents will be able to enjoy all the facilities of the estate including frail care services as well as assisted living for added peace of mind.
The Langebaan Country Estate Retirement Village intends to offer 1 bedroom apartments in an assisted complex and 2 & 3 bedroom freestanding homes nearby, where all medical services will also available 24/7.
The estate has certain architectural guidelines and you'll have to use builders and landscapers which are on their panel of approved contractors.
Things To Do In And Around Langebaan Country Estate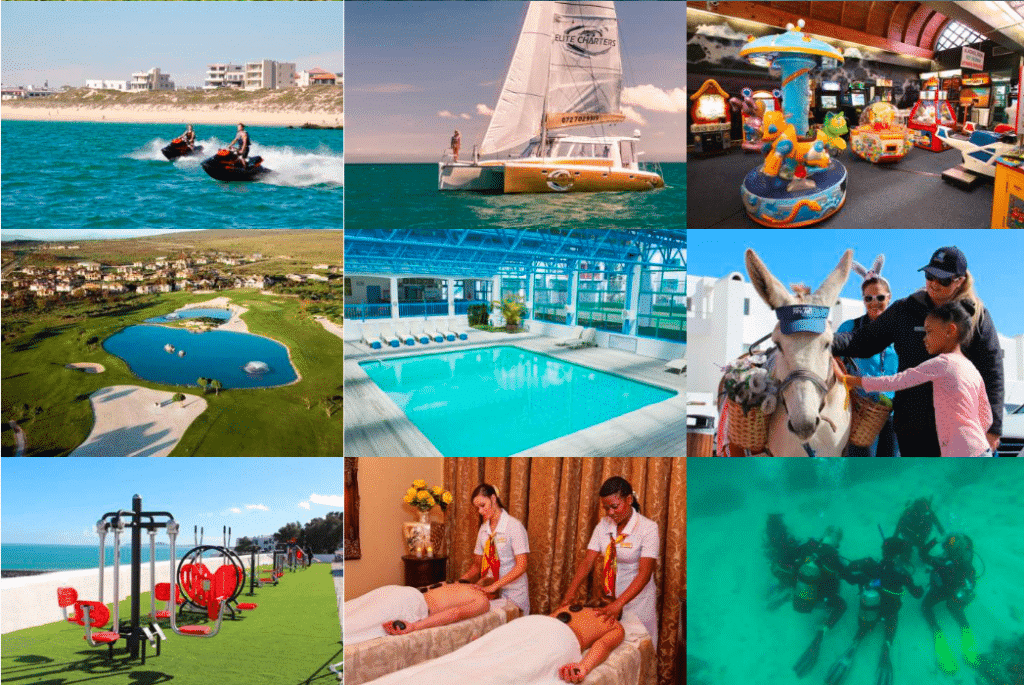 Invite your friends for a round of golf and see which one of you can get a hole in one!
If you're not a golfing fan keep in mind that Langebaan offers a range of outdoor activities and water sports such as kayaking, kite surfing, boat trips, windsurfing and fishing.
Langebaan is a kite surfing and windsurfing paradise and attract surfers from across the globe. The Langebaan Lagoon with its perfect flat water conditions, also makes it the ideal place to learn how to kitesurf.
The lagoon is internationally recognised to be among the best boardsailing spots on the planet.
The lagoon actually forms part of the West Coast National Park, a pristine nature reserve and home to vast concentrations of bird species and other wildlife. This make the West Coast National Park the ideal place for nature lovers.

While the lagoon may be a hotspot for water sport lovers, hikers and mountain bikers head to the West Coast National Park for its scenic trails.
Langebaan is not just about being outdoors. For culture lovers, the Bay Gallery in Langebaan displays the work of local artists in the area.
And don't forget all the great restaurants in Langebaan such as Marc's Beach Bar for example. This fabulous restaurant is vibrant and chilled out with a magnificent view of the lagoon. Marc's offers a full a la Carte menu which includes breakfasts, burgers, seafood, pizza, pasta and steaks.
Other suburbs in Langebaan include:
– Blue Lagoon Langebaan
– Calypso Beach Langebaan
– Langebaan Country Club
– Laguna Sands Langebaan
– Long Acres Langebaan
– Middedorp Langebaan
– Mykonos Langebaan
– Myburgh Park Langebaan
– Paradise Beach Langebaan
– Sunset Estate Langebaan