4 Homes In Langebaan With Beautiful Kitchens Under R2.5m
Did you know that South Africans spend close to 500 hours per year in their kitchens?
When you're looking for a new home (or just dreaming about one), the kitchen can be the room that makes the biggest impact. If a kitchen has outdated appliances, a weird layout, or is noticeably cramped, you definitely notice it.
Whether you like throwing big dinner parties or the only appliances you use are the microwave and the toaster, it's important to feel comfortable in your kitchen. But they can be costly to redo, which is why so many homeowners put this off for the next owner.
That's not the case with these homes!
To save you time, we hand-selected homes for sale right now with beautiful kitchens.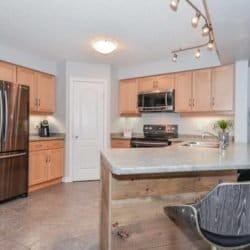 This kitchen seriously has it all. It's open concept brings in beautiful natural light, the inviting layout is great for entertaining – and look at all that storage space! With a kitchen like this, you just might want to host family dinner at your house!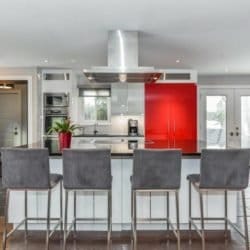 This kitchen speaks for itself. This ultra-modern space has been recently updated with top-of-the-line features, including the huge  black quartz island and fire-engine red Liebherr fridge + freezer. Did we mention there's also a walk-out to the back patio?
We LOVE this unique Century home kitchen! With thoughtful organization, gorgeous natural light, and graceful finishes, this delicate space is somebody's dream kitchen!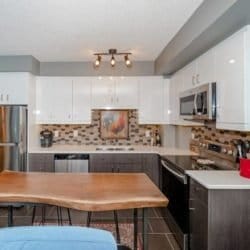 Ultra-trendy, two-tone kitchen cabinetry. Statement raw-edge breakfast bar. Luxury finishes, from flooring to appliances to backsplash. Open concept layout with incredible views of the lagoon. Need we say more?
Want To Know How Much Your Kitchen Is Worth?
Get a Free Online Home Valuation to find out what your home is worth.