Do you want to waste your time looking at a home that is priced too high? Will you buy an overpriced home?
So, why are you then as a home seller prepared to overinflate the value of your home?
If there's anything virtually guaranteed to make your home sit on the market for months, it will be the price!
It is unwise to wait and see if there are any buyers out there who would be willing to pay a higher asking price than true market value. Estate agents in Langebaan know that the most common reason a home won't sell is that it is priced too high.
Sign #1 – You hired the estate agent who gave you the highest price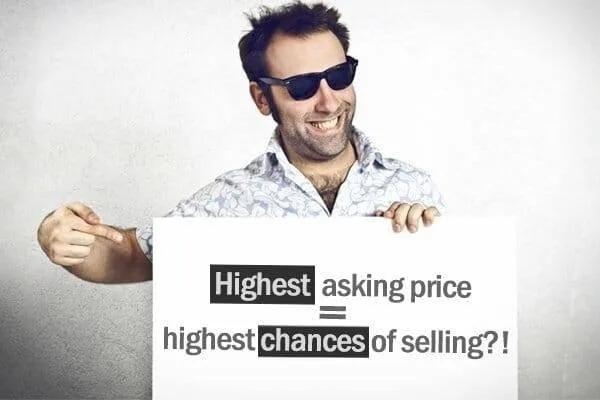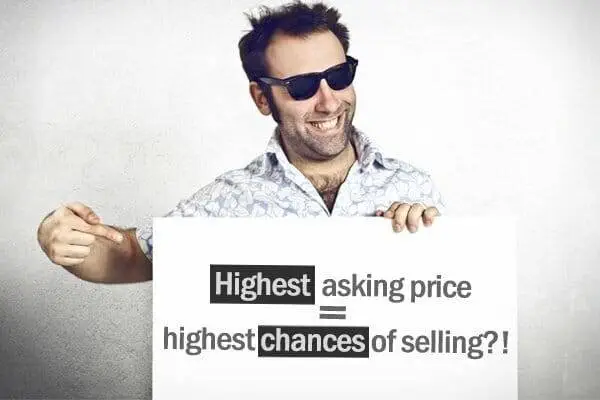 Just about every homeowner who decides to sell their home thinks that their home is worth more than it really is.
The reason for this is usually because the owner has seen what neighbouring properties have listed for on sites such as Property24.com or estate agents (in an attempt to win favour and get a sole mandate)  have persuaded the owner that the home is worth the inflated amount.
In the majority of residential neighbourhoods, there is anywhere from a few to several hundred estate agents. For instance, the number of estate agents in Langebaan is nearly 150.
Like in any industry some professionals are skilled at their trade and those who are not. Unethical agents will try to "buy your listing." So, if several agents are competing for your business, a simple way to secure the listing is to overinflate the value of your home. They know a lot of homeowners will pick the agent who promises the highest price.
This is doing the home seller as well as the agent a huge disservice because the home will sit on the market for a long time. Buyers may start to think there is something wrong with your home. There is likely nothing wrong with your home, besides the fact that your home is overpriced.
Sign #2 – Your home is listed for much higher than other homes for sale in your neighbourhood.
"Have you seen what properties in my area are going for on Property24 and Private Property? Mine looks much better. I can sell for much more!"
Does that ring a bell?
It should!
This is what estate agents hear from clients regularly.
A common mistake homeowners make is to base the selling price of their home on the asking price of nearby homes listed on property portals such as Property24.
However, sellers cannot factor in the prices of active listings on Property24 when pricing their home. The ASKING prices you see on the Internet are just an indication of how much these home sellers would like to get for their properties. It's not actually selling prices.
So you have to take a look at what homes in your neighbourhood have recently SOLD for.
And if your home is priced much higher than the SOLD prices in your neighbourhood, it usually means your agent hasn't done a comparative market analysis (CMA) of your home value.
A seller who does not have a comparative market analysis done on their home is making a big mistake as is the estate agent.
Want to know what your home is worth? Get a Free, Online home valuation today.
Sign #3 – After 90 days of marketing, you haven't received an offer
If your home is being marketed properly, you should start getting interest from potential buyers within hours or days of going onto the market.
And as a result of this constant flow interested buyer, it shouldn't take too long before you get your first offer to purchase.
When I was selling properties in the northern suburbs of Cape Town, my principal used to say.
"You've got 4 weeks, 10 viewings, and 1 offer or something has to change!"
A home that is priced right should get offers within 30 days of its very first launch. However, if you're not getting any offers (and your home is being marketed property), you could be dealing with a home that is priced too high.
Sign #4 – Buyers are looking, but nobody is buying
Your agent will get feedback (what they liked/disliked) from every buyer she takes through your property.
If your home is priced too high, virtually all visiting buyers will point out they can better value for money from the house further down the street.
Keep in mind that the average buyer views between 10-15 homes at the same time they are considering yours. They don't want to overpay for a home and often use CMA reports to help them figure out your asking price is too high or not.
If the CMA comes up with a price much lower than your asking price, buyers may see this as a red flag. Bottom-line is that buyers nowadays have a basis for comparison and if you have to be careful not to price your home right out of contention.
Sign #5 – The real estate agent's sole mandate expired, and your home is still on the market
So what happens if your agent's mandate expired after 6 months or maybe even 12 months of marketing and the house still hasn't sold?!
Maybe you chose the wrong agent! Or might there be other reasons for the property not selling? I'm sorry to say that if a house has been on the market a long time, most home buyers out there would have seen this property, even if the agent's marketing wasn't all that great!
So we're back to the issue of trying to sell an overpriced house. So rather than getting rid of the agent, adjust the asking price on an overpriced home to ensure it sells quickly at a market-related price!
In a Nutshell
One of the most common reasons a property doesn't sell is because the price of the property has been inflated. As you probably know by now in most cases, the market won't be fooled. If a home is priced way above their true market value no amount of marketing will get it sold.
Unfortunately, some unscrupulous estate agents will accept an overpriced home so that they can leverage that home as a springboard to sell their correctly priced homes.
And the home seller must endure months of 'suffering' constantly having your house in "showroom" condition, all for nothing. And after months on the market, the likelihood that your home will sell at a price below market value is very high!
Bottom line? Hire the right agent and price your home right from day one!
Related Resources on Langebaan Real Estate:
12 Reasons Why You Should Move to Langebaan
5 Life Hacks I Wish I Knew Before Moving to Langebaan
---


If you liked this article, please share this article with your friends on Facebook. ??